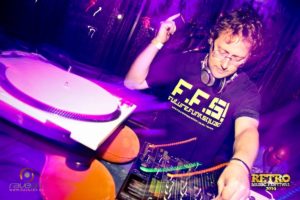 Future Funk Squad is actually just one person, über-producer Glen Nicholls. One of the most respected figures in the international breakbeat scene, he's remixed more name artists than you can shake a funky stick at and DJ'd all over the world. The Prodigy (twice), Moloko, UNKLE, Hybrid, Muse, Mylo, Stanton Warriors and Bomb The Bass are just a few of the acts who've benefited from a FFS respray, not to mention some of his childhood heroes such as Yazoo.

Future Funk Squad did become a band in the mid-noughties, producing the acclaimed 'Audio Damage' album and touring with a full six-piece live set-up. But lately Glen has taken the FFS sound back to its DJ/producer roots, releasing the 'Disorders Of Skill' album and leaving behind the record label that tried to make him go too commercial.

Growing up in Dorset, Glen started off making drum & bass before accidentally stumbling upon nu skool breaks after hitting the tempo button to take one of his tunes down to 145bpm.
Pressing up some white labels, he soon found that some top DJs were playing it and he started DJing himself with his mate Neil Briggs, who would later become breaks DJ/producer High Eight. Tongues firmly in cheeks, they called themselves Future Funk Squad and began playing fun-fuelled big beat and breaks out around the local clubs.

When Glen moved to London around the Millennium he took the name with him, and was soon offered his own label – Default – through Champion Records after remixing house classic 'Break 4 Love' by Raze. He'd started remixing other artists to get the FFS name about, and quietly but assuredly elevated himself to the position of one of the foremost breakbeat artists in the world.
When it came to formulating his debut album in the mid-noughties, he was working with vocalists such as MC Mojo and Tamra Keenan. The idea of producing a FFS band (a squad, if you like) started to germinate around the 'Audio Damage' album. The album was well received and the band played shows in places like China and eastern Europe, but Glen realised he'd perhaps bitten off more than he could chew trying to keep a fully functioning band on the road.

Taking his sound back to its roots, he re-energised his own label En:Vision Recordings, and set about producing new music that's, as he says, "more science". Glen also undertook some more remixes, revamping The Prodigy's rave anthem 'Warrior's Dance' as well as tracks by indie stalwarts White Lies and electro-pop singer Ladyhawke.

When 'Disorders Of Skill' came out in mid-2009, it was immediately hailed as a breakbeat masterpiece. "This is better than 99% of anything you have heard in breakbeat before," raved Thisisbreaks.com. From opener 'Zones' onwards, 'Disorders' is an album full of dancefloor dynamite, yet it retains an almost filmic quality in places – perfect to sync to films, TV shows and video games. It's no wonder that sync experts Position Music have signed the album for America.

There's now a remix album, cunningly called 'Reorders Of Skill', with some of the top names in breakbeat reworking choice album cuts. Glen's already started work on the follow-up, in between DJing all over the place with MC Mojo in tow and recording music under some of his other mystery aliases.