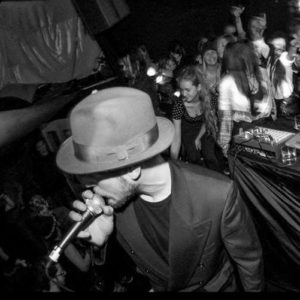 Born in Drum & Bass, grown with Grime and Dubstep, now quite happily settled down in HipHop – with a side of Vintage Remix. 
15 years ago Sage was roaming around London house parties with friends gathering around soundsystem's practising bars over whatever music was being played. When entering his mid-teen years he was jumping on whatever mic he could working on his skills and style.
In 2008 he decided to start taking this hobby seriously as for long enough now he had heard people say "…your really good you know…" and HypemanSage was born. By this time his friends he was gathering round soundsystems with were now DJing at raves and starting to put their own nights on and getting involved with Londons underground rave scene.
In 2010 we saw the birth of the incredibly successful S.O.M.E night, which he and his friends held at London's venue The End – formally known as The Den. S.O.M.E night quickly became the mid-week student night for everything Dubstep, Garage, Grime and Drum&Bass orientated, and weekly now Sage was hosting sets with some of the biggest names these scenes had to offer – earning his reputation and further honing in his style, solidifying his status as one of the go to MC for London underground rave scene with residencies at some of the most popular raves in London at that time: S.O.M.E night, Dubpack, Licked Beatz & Vagabondz.
In 2013 he met producer Subculture Sounds and formed Subculture Sage – a hiphop based alternative electronic bass heavy music artist duo. The project has been incredibly successful having only released a very small amount of work and has been picked up and played by major national radio DJs: Zane Lowe, Rob Da Bank, Phill Taggart, Nemone, John Kennedy & Giles Peterson just to name a few. And shared stages and supported HipHop legends such as TaskForce, Akala, Harry Love, Jurassic 5, Pharoahe Monch, Dead Prez & soon The Pharcyde to add to the list.
With all this just off one EP and the release of their debut album coming out this year the future looks very bright for Subculture Sage.
With the spare time Sage has you can also find him jumping on stages with Vintage Remix acts Big Swing Sound System and Dutty Moonshine's Big Band – having been picked up from his few track entries to the genre: Swingting (prod. Kormac) & The Zazou (Prod. Smokey Joes & The Kid).