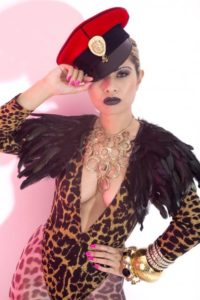 KCAT (pronounced" Cat") is a performing artist who is no stranger to success. Her accolade as featured act on Delinquent's top 20 smash "My Destiny" has undoubtedly opened major doors for her. A new star is born, and the world better beware!!
It's not just the spelling of her name which makes KCAT unique. There is plenty more to the story…
Hailing from North London, she has dazzled audiences since the tender age of 13, always stealing the show at local talent contests and showcases. As her family willed her on to continue, it was evident that KCAT had a special talent on her hands. She would win every competition in sight. Aged 17, she won the inter-college talent contest, won previously by Daniel and Natasha Bedingfield.
KCAT soon became an accomplished artist and song writer, plus she was developing an impressive understanding of music production too. She recorded "My Destiny" and saw it become a top 20 smash in spring 2008.
3 million plus you tube hits onwards, KCAT has arrived with her very own unique and energetic sound.
Not forgetting her love for underground eclectic music, KCAT has independently released material in 2010 such as "Epileptic" which received airplay on BBC Radio 1 via Toddla T and Annie Nightingale, in addition to BBC 1xtra as well. Her video "Boys Don't Cry" also achieved being playlisted on The Box simply on the strength of the video alone.
KCAT's year has gone from strength, collaborating with the Wideboys on dance track "Back In My Life", and also providing guest vocals on Bashy's "Fantasy". This particular project resulted in an appearance with Bashy on Channel 5's "Live From Studio 5". It was such a success for KCAT that she was invited to join Bashy on stage at the o2 Academy in Islington a week later, again bringing the house down with her energy on "Fantasy".
Key features on The Mike Delinquent Project saw her vocals on "Out Of Control" and "Mama Said" very well received at Specialist & National radio. With 2013 in full swing, KCAT has achieved great support from Radio 1's Annie Mac, Trevor Nelson, MistaJam and BBC Introducing's Aled (The Surgery) show with her re-work of DrumNBass classic "Greater Love". She continues to work with the UK's edgiest and fresh producers to bring us her long awaited debut album offering in Autumn 2013.
KCAT has a beautiful ethereal voice, together with character, and fashion forward visuals. One thing for sure is that the listener will be taken on a very interesting journey. KCAT has arrived, and she is certainly what the music industry desperately lacks.
Watch this space for more….