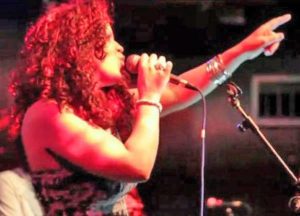 Immersed in music from an early age, Maria Marcial began singing, songwriting, and entering local competitions from age ten. Growing up with diverse musical influences ranging from Anita Baker to Billy Joel, and Kate Bush to Dennis Brown, Maria has developed a soulful and hook driven style of singing and writing.
Despite setbacks throughout her musical career; Maria's obvious talent and drive to succeed within the industry has lead her to increasing success. From reaching the top twenty in Radio one DJ Trevor Nelson's 'Urban Choice Award', securing an eight week long number one slot in the chart of London based online radio station "Colourful Radio", to writing and performing alongside Canadian Artist, Roach Killa, Maria's bid to make a name for herself within the music industry appears to be well on its way.
In 2010 Maria won the pop category of the St Helier Music Crown competition with her track "No Compromise", landing her a year's worth of PR and management amongst other prizes. Maria performed alongside MOBO 2010 nominee and UK soul sensation McLean at the awards ceremony.
Maria's latest offering is a soulful house track entitled Do You Believe, a feature on the new album of established DJ and Producer Tony Lionni and released via the legendary, Kerri Chandler's record label, Madhouse records.