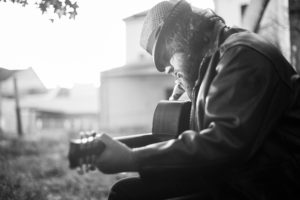 Basketball prodigy, scholarship rower, mental illness survivor, blistering live performer and gentle giant. Mike Elrington is also gifted with a songwriter's sensitivity and creativity, incredible guitar skills, a fierce work ethic, a focused resolve and an admirable strength of character.
Standing at almost two metres tall, delivering his signature, gut-wrenching vocals like an instrument all its own, very few people forget a Mike Elrington performance. The commitment to his live shows and the well-earned reputation for leaving nothing behind but sweat has seen him invited to perform at some of Australia's finest festivals, including the iconic BluesFest, Bendigo and Sydney Blues and Roots Festivals and Blues on Broadbeach to name but a few.
The past few years have been exciting for Elrington; personally with a recent marriage and fatherhood, and professionally; signing international publishing and management deals, receiving national airplay on Australian TV institution Neighbours (with his song Believe), performing in NZ, the US and the UK, and the recent release to US college radio of latest album Two Lucky Stars which has gained airplay across a number of states. 2016 is so far shaping up to be as big as the man himself, with an extensive Australian tour booked to promote Two Lucky Stars, which will be released in Australia in February.
It used to be markedly different. The impending tour and release are a testament to the fortitude and tenacity of Elrington's strength of character. Elrington, who has sold in excess of 5000 units independently so far, has not just fought the usual battles for airplay and exposure, but dark battles with himself. Duelling the black dog of depression and bipolar disorder, a fight he describes as "nothing but empty and horrible" back in 2009, things got bleak. It was almost the end of him, but Elrington eventually rediscovered his love of music and life.
"I guess the whole chase of ever-elusive success just caught up with me and really dragged me down, so I had to take a break from music for a little while and then get back into it for the right reasons, which are mainly fuelled by the desire of writing songs and then sharing them in a live situation, regardless of whether there's 10 people in the room, or 10,000 at a festival."