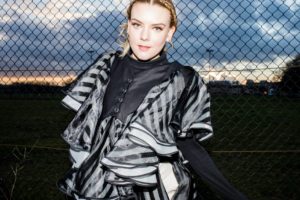 Name: Py AKA Jade Pybus
Who is she? "Py is a force in electronic music as a whole. A dexterous, soulful and deep vocalist. She is unassuming, grateful and sporting an aura of creativity, as well as one of confidence and musical prowess." Data Transission
The Sunday Times thinks: "Ghostdance shows us what we've been missing, its sinuous vocal, Prince-like groove and alt R&B sonics adding up to one of the most arresting songs of the year."
Radio 1 thinks: Zane Lowe made her single Polyethers his prestigious 'Next Hype'
Boiler Room says: "Pretty spot on if you ask us"
Music Released: Ghostdance (EP) Tilehouse Records, recorded at Red Bull studios in Paris. Polyethers, (single) Champion Records. Swimming Slow, (single) Madtech Records. Tripping on Wisdom (mixtape), Self Released.
Works with: Throwing Snow, Odezsa, George Fitzgerald, Lapalux, Claude Von Stroke, Mr.Mitch, Supreme Cuts.
Performances: Worked with longtime Radiohead collaborator, Andi Watson to create 'Colour Choir', an audio-visual installation exploring light, colour and voice.
Supported by: By the prestigious 'PRS Momentum Award' and the 'Grants for the Arts Award' The Arts Council.
From: Hitchin, Hertfordshire
Lives in: Bethnal Green, London and Poble Sec, Barcelona.
Actually: Has a 1st in Music and Visual Arts studied at Brighton University.
Interesting fact: Sometimes makes music for TV. Downton Abbey features Py's music on their promo.